THE 2018 HYUNDAI KONA : 7 REASONS WHY IT'S SO POPULAR IN CANADA!
If you're even moderately observant, you'll have noticed that since its arrival on the market, the Hyundai Kona has been more than warmly received by consumers in Canada. In fact it's quickly established itself as a top seller in its segment, and one of the most popular models produced by the Korean automaker.
Speaking of that subcompact SUV segment, we recently poured over it to determine our ranking of the Top 10 Subcompacts SUVs in Canada for 2018. And it represents reason number one why the Kona is such a hot ticket for Hyundai: it sits in what is currently one of the industry's hottest categories.
There's a lot more to this small crossover, however, that helps explain its successful courtship of Canadian consumers. We take a look at the main ingredients that make up the recipe for success for the Kona.
1. The format
SUVs, as you surely know, have become the favoured choice of many, many consumers here and elsewhere. On top of its utility model status, though, the Kona stands out for its smaller size, which makes it ideal for scooting around town, navigating heavy traffic and parking in tight spots. Many motorists who would previously have naturally gravitated to a sub-compact car have found in the Kona a vehicle that offers the small city-friendly size of those cars, but adds a large dose of versatility and much-improved cargo space.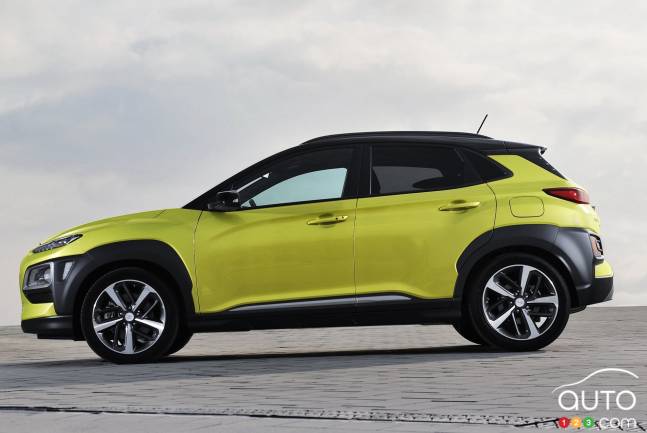 2. The interior design
A big sacrifice many small sub-compacts require of their owners is in the area of interior space, for occupants as for cargo. The Kona does not make you feel like it's doing this. For starters the front-row space is quite ample and comfortable, while cargo space in the back is 544 litres, really quite exceptional for the segment. Fold down the rear seats and you free up 1,296 litres of total cargo volume. Again, more than serviceable. As a bonus you get a storage space under the floor for those objects you want to keep away from prying eyes.
You'll notice we skipped over the second row of seats, and well, that's because the price for that roomy front row and generous cargo space is paid here. It can get a little tight for larger passengers consigned here, especially for their legs.
3. The (available) all-wheel drive system
The 2018 Hyundai Kona, like the majority of models in its segment in fact, is available with an all-wheel-drive system. For a reasonable extra sum of a few thousand dollars, the buyer can gift himself or herself a vehicle that is well-equipped to handle our Canadian winter nastiness.
With the spread of AWD systems to more and more vehicles, at increasingly affordable price points, it's getting hard for us to imagine why any Canadian buyer would opt for a vehicle that doesn't have this feature. In any event, the Kona has it – or at least, you can add it to your purchase.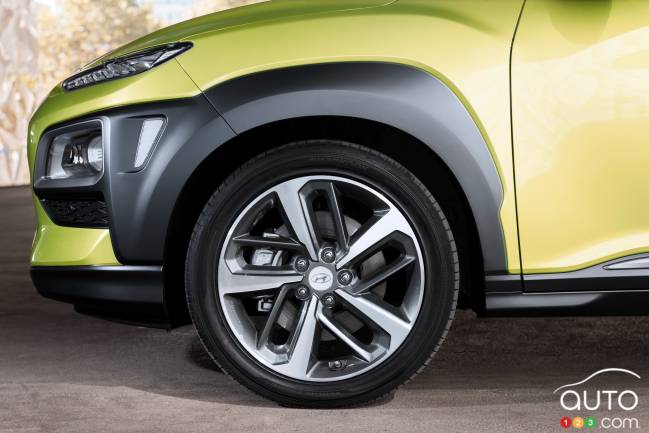 4. The generous range of standard equipment
Hyundai has built its reputation on always offering more for much less than most others can muster. Early on, the strategy services to bring potential buyers into dealerships and convince them that choosing a Hyundai was a legitimate option. Today, consumers recognize the quality of the products they're getting from the brand, but at the same time they've come to feel that the company is maybe not as generous with its features and equipment as before.
The Kona marks Hyundai's return to the more-for-less approach when it comes to equipment for the price. Early on in the trim levels, the multimedia system includes all the main functionalities like Android Auto and Apple Carplay connectivity, and when you climb the ladder you even get stuff like a head-up display. A few years ago that was the kind of feature only found on luxury models.
In short, the buyer gets their money's worth with the Kona, which is a pretty compelling selling point when people are forking over large amounts of money for a vehicle.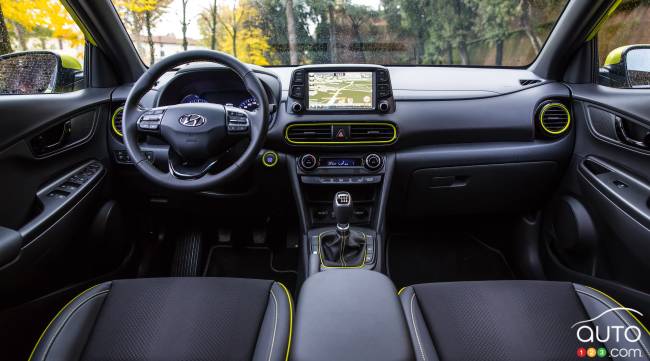 5. The mechanics… and the electric option
Buyers get to choose between two attractive options with the Kona: they can go for the base engine, a 2.0L 4-cylinder that delivers 147 hp – more than enough for daily driving, especially in an urban setting. Those looking for more punch in terms of performance capabilities can opt for the 1.6L 4-cylinder turbo, with a more muscular output of 175 hp and, even more importantly, 195 lb-ft of torque.
And there's more. The Hyundai Kona Electric is almost upon us. In fact its media launch is set to take place shortly in California, and we'll be there for that so stay tuned. It's expected that the Kona electric will be available for orders not long afterwards. And when they hit dealerships, watch out. If you think you've been seeing a lot of Konas on Canadian roads already, get ready for a mini-invasion. With the newest Kona promising a range of some 400 km, all the attributes that are pulling buyers to the Kona will be joined by a new, very compelling one.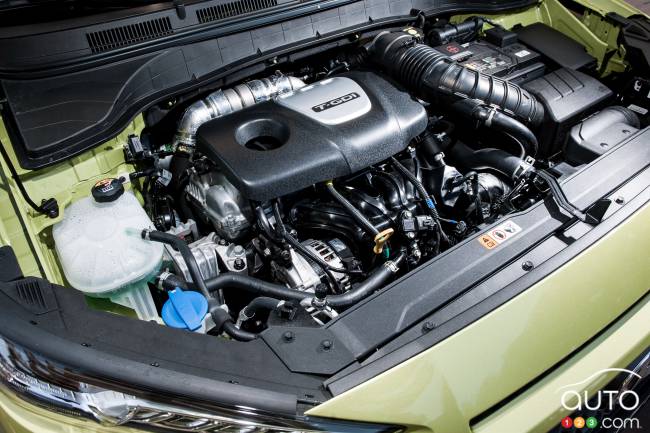 6. The styling
Say what you want about the subjectivity of taste and beauty being in the eye of the beholder, it's simply hard to dislike how the Kona looks. The stylists at Hyundai hit this one out of the park in our view, whatever angle you look at the crossover from. What's more, the product offering includes eight different colour options, some of them quite striking. You could say they want a bit overboard with the plastic around the wings and at a few other places on the chassis. Maybe the designer has stocks in plastics. Anyways, that's kind of nitpicking…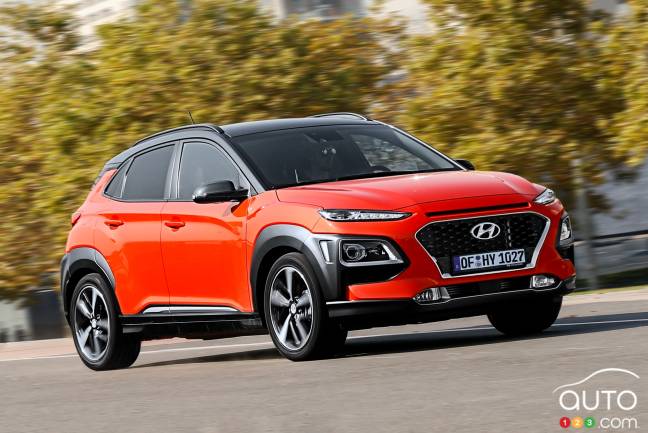 7. Driving pleasure
We won't go so far as to say the 2018 Kona delivers earth-shattering driving dynamics, but we also don't find it to be moribund, not by a long shot. Sensations are good when at the wheel, and overall the chassis is relatively stiff and helps ensure a driving experience tinged with a touch of sportiness, if that's the kind thing that is omportant to you. The vehicle's balance is also quite impressive.
The overall package is more than acceptable when you first test drive the thing. And when the drive is positive right off the bat, that helps make the buying decision easier.
Conclusion
Really, the success of the Kona ought not be a mystery to anyone: it has all the ingredients to win over buyers who want the right balance of qualities and price point. They say that in the car industry, emotions sell vehicles, but reason is often what dictates choices.
When a vehicle can both inspire emotions and make logical arguments for itself, you have the makings of a success.